Sagan Training Blog: Week 4/11 Weeks Old
It is Sunday morning after our forth week together. It is possible that Sagan is almost twice the size as when I brought him home at 8 weeks old. I did not cry this week but I did become reactive when he jumped up and grabbed my hair. I am sorry to say that I yelled bad words and bared my teeth at him like my mom used to do when she was really angry with me. I guess people and dogs are more alike than we like to think. I apologized to him and he was upset for a couple of seconds before trying for my hair again. I managed the situation by putting up my hair. I learned in a big way this week that managing situations before they happen is as important as training to increase or decrease a behavior.
In the spirit of management, I bought a Gentle Leader head collar yesterday because my shoulder is not happy with his pulling at the leash. I need to get the pulling under control so we can progress to more fun activities. This morning I introduced him to the collar with a truckload of treats and a little manhandling to avoid his shark teeth. I will take small steps during the next couple of days to make it a positive experience. I will try to put it on and feed him his lunch. Next week we will find out how it went.
We got a baby pool for him and that has been hysterical. He runs and jumps in and out of it whether there is water in it or not. He also likes to add his own water to it by urinating as many times as possible. He seems to think it is his toilet.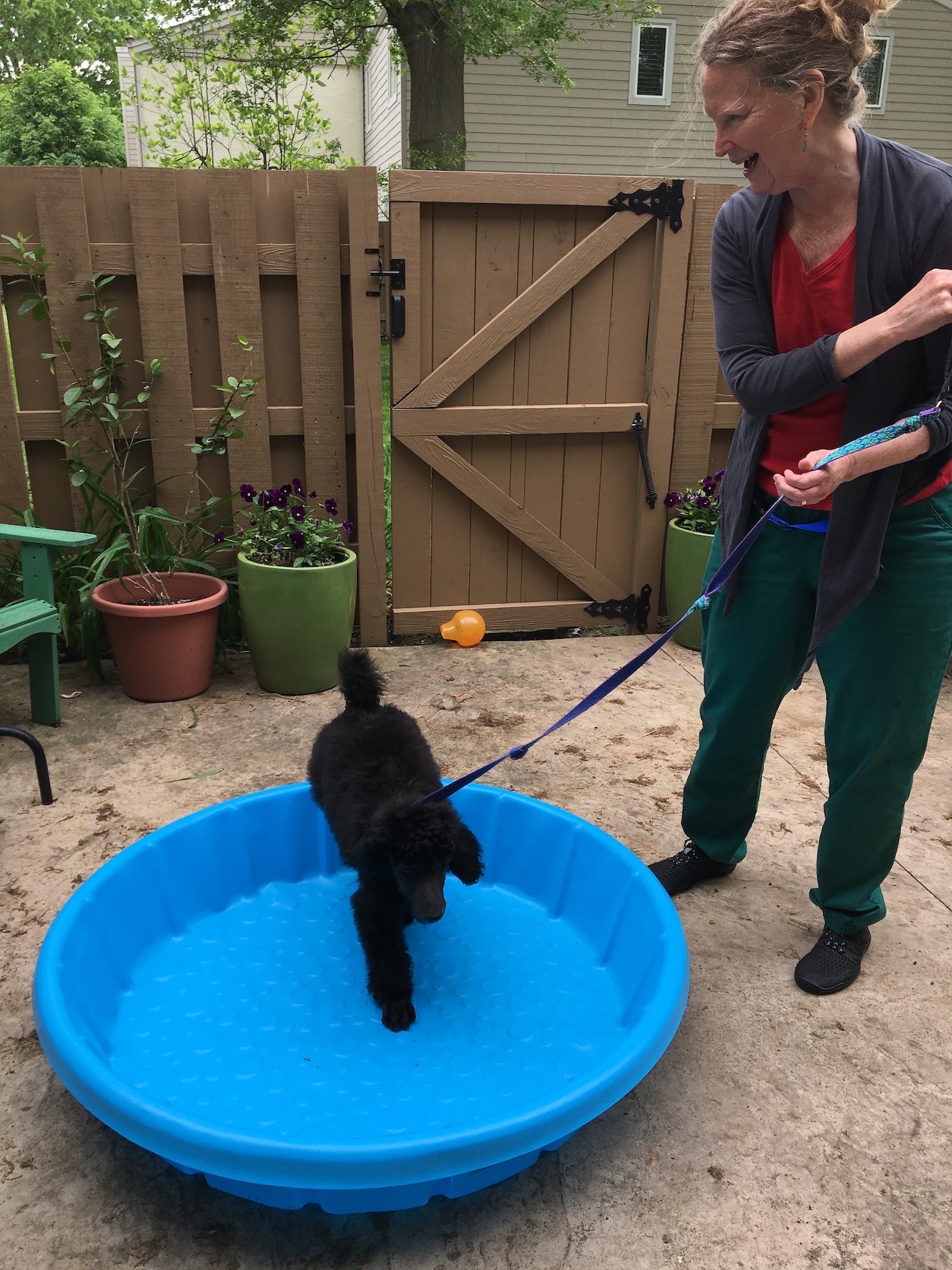 Picture above shows Mel holding Sagan on a leash while he discovers new pool.
He had his first grooming session early this week. He did very well. He is fluffed up which happens to be the business name of the mobile groomer. She was fantastic with him and she showed me her brush and how to use it. She also suggested I get a grooming table to help with desensitizing him to the grooming process and also to help me with grooming him myself. Poodles need to have their hair done allot and their nails too. I will let you know next week if I like the table I ordered.
I had a local trainer come to work with us this week. She raised puppies for the Seeing Eye and she also worked theree before she became a trainer herself. We have a good rapport and I am looking forward to learning with her. This week we focused on foot tethering which simply means stepping on the leash to help the puppy understand the concept of a loose leash. Sagan learned very quickly. I have continued to reinforce and add to this new skill. As long as the treats keep coming he does very well.
We continued to solidify basic commands. Sit, down, wait for food, wait at the door, in the crate, go busy, and of course house training and name recall. He is not completely reliable with any of these but progress is definite. I confess that patience is an area of growth for me. I tend to want to jump over the small steps that must be taken to reach a larger goal. I have trouble with thinking in little details so having a trainer helps keep me accountable.
Next week I will tell you about the new crate and grooming table I just ordered. My current crate is an inferior wire crate and I am afraid he will hurt himself. I chose a plastic crate which will come next week.
Overall this last week has been a good one but I am feeling some fear about my ability to do this job right. Frustration and overwhelm have been near to me this week. I have good supports in place so I count on them to keep up my spirits.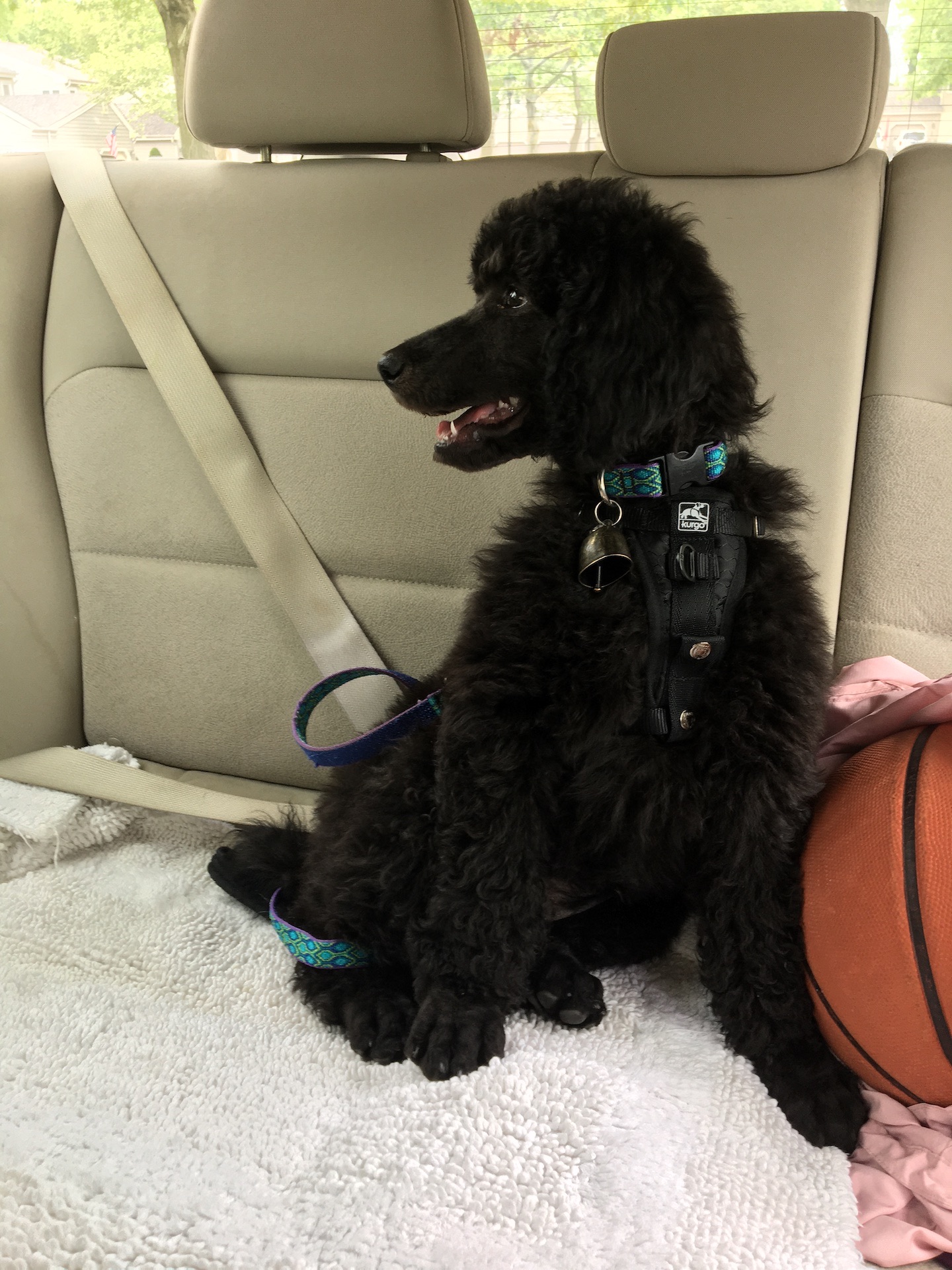 Picture above shows Sagan on a car ride after visiting the local dog store, Dogs and Cats Rule.
Links for you this week are below. I have no affiliations with any of these. I just thought you might be interested in the products I am trying this week.
Lobster and pig brand https://hugglehounds.com
Zukes treats https://www.zukes.com
Gentle Leader https://www.chewy.com/petsafe-gentle-leader-padded-no-pull/dp/52155
Doylestown Pet store https://dogsandcatsrule.com/#/
Car harness https://www.kurgo.com/harnesses/enhanced-strength-dog-car-harness
Fluffed up mobile dog grooming, https://www.facebook.com/fluffedupgroomsbykaci/
Susie Danzies Dog training, https://trainingtails.net