Introduction and Week One
A few weeks ago I mistook peppermint oil for dry eye drops. I know it sounds incredibly stupid. It was one of those blind moments that we who are blind are all too familiar. I always keep peppermint oil near my bed to put in my nighttime water. I also keep eyedrops there. The shapes of the bottles were unique until that day. I had just gotten a new bottle of eyedrops which had the same shape as the oil. I was sleepy and I reached for the wrong bottle. I suppose you could say it was the wrong bottle, according to your perspective. I say this because after burning the corneas of both eyes with peppermint oil, I realized that I needed to get ready for being really blind. That experience of needing to keep my eyes closed for several days while my corneas healed showed me that I needed to step up my game in terms of blindness skills. I have been contemplating training my own guide dog for a while now and the peppermint oil kicked me into gear. So, I am calling the peppermint oil a gift. We will find out over the next years if this is so or not.
My intention with this blog is to document this journey with the hope of helping others who may want to train their own guide dog and to be an outlet for me on this uncertain journey.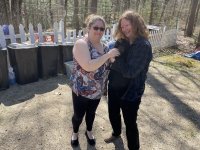 The picture above is Mel holding Sagan next to Danielle, the breeder.
Sagan was born March 2, 2022. The breeder is Danielle Grouleau and Sagan's parents are Fiona and Mopar at Doe Valley Standard Poodles. Danielle breeds for Health, temperament, confirmation, and working. She does not dock tails which is very important to me. I don't approve of that cruel practice. I spoke with her and felt certain that she had the highest standards for raising healthy, confident poodles. I put down a deposit and waited and prepared with high anticipation for about 5 weeks until he was ready to come home. I devoured everything I could on positive training methods. I settled on The McCann Dog Training Method after obsessively watching their YouTube channel,https://www.youtube.com/user/McCannDogs. Their videos are fairly well described and they have been willing to help with accessibility issues.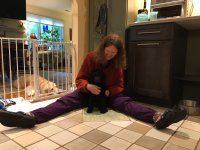 The picture above is Mel on the kitchen floor holding Sagan. Jingles is in the dining room behind the gate looking in on a training session.
This first week at home has been quite a ride. I have felt overwhelmed and completely exhausted. It is a good thing Sagan is so cute and smart because this has not been an easy week. I began training immediately according to the schedule laid out by McCann Dogs. We worked on name recognition, learning the importance of the marker word which is "YES!", learning to follow a food lure, crate training, and of course, house training. We have made great progress along with a few melt downs from me. Everything was going great until it rained steadily for two solid days. At first Sagan didn't find rain troublesome but then he decided it wasn't fun anymore. He regressed in his house training and I regressed in my equanimity. Today was Mother's Day so my husband, son, and partner took over Sagan care for a few hours so I could make an attitude adjustment.
Tomorrow Sagan will be 9 weeks old. We will continue to work on foundational skills like last week. I also need to get some better systems in place so we are not falling all over each other. I also need to pay better attention to Jingles, my retired guide dog. She is looking kind of sad these days with this new annoying puppy around.
As I get myself organized better, I will try to give more training details here. Time will tell how all this goes.
The link below is to the dog training method from Mccann dogs and the breeder's link to her facebook page, Doe valley standard poodles.
https://www.facebook.com/DoeValley-Standard-Poodles-159703662412