This last week started out rough with me feeling overwhelmed and too tired to contain my emotions but I got through it and we are back on track. Stu and I took him on his first big outing so I could get a much needed massage. Sagan wore his car harness with some agitation at first. He settled nicely on the way home.
Sagan was exposed to fast cars zooming by him as he walked on the sidewalk. I was pleased to hear that he watched but was not scared. He was wearing the Gentle Leader which calms him and keeps him walking nicely at the left side. After his walk, Stu gave him a peanut butter smeared whole carrot which kept him busy until my massage appointment was over. I truly feel like he is going to be a good dog if I can keep up my end of the contract I made with myself.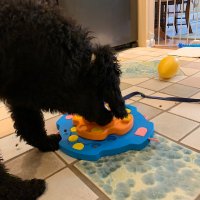 Picture above shows Sagan in the kitchen playing with a puzzle toy.
Another achievement last week was walking him to the nearby mailroom where I sat on a bench and he performed a perfect "down and under" command. He went easily under the bench and stayed put. I was treating him every few seconds which I increased the duration as we sat. He also went down and under when people were over and there were no treats. I had to replace him several times but he finally acquiesced and went to sleep. It feels good to know that he can be still if I work with him long enough to help him understand that fighting the inevitable is just not worth it.
Puppy nipping has been troublesome this last week. He communicates that he wants to play or attention by biting my knees and ankles. He also goes after my hands if I am sitting on the floor. I have had to employ discipline to quell the behaviors. It works for a time, then he forgets and goes back to biting. I have been assured over and over that this too shall pass. I know it will and I can't stay mad at him for more than a second. He is too cute for that. Puppies and human babies are born cute for a good reason.
The best toys of last week were the football shaped ball which bounces around and keeps him moving. The tunnel also keeps him very busy and it makes me laugh a lot. I am like a child though myself in that I want more toys every week. I am afraid it is becoming an addiction for me to keep ordering toys. I think I need to learn to play better with the ones I have. I am not naturally a loud person who plays freely and with great enthusiasm so I am learning to let down my own walls. Sagan is teaching me so much. It is tough at times but well worth doing.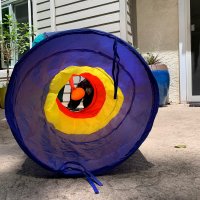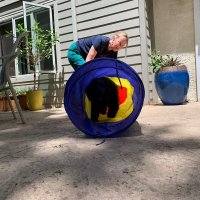 Pictures above show Sagan running through the tunnel chasing after his Jolly egg toy.
Desensitizing him to the grooming table and tools is going well. I also like the new crate which feels more secure. The links will be below.
Grooming table, https://www.amazon.com/dp/B07DGR6XQ7?psc=1&ref=ppx_yo2ov_dt_b_product_details
Pet Crate, https://www.petmate.com/petmate-vari-kennel/product/21790