As you can tell from the pictures, Sagan had a major haircut this last week. He looks naked. He is acting like he doesn't know his own body anymore. He is hyper and the only thing that distracts him for any length of time is a marrow bone or a food puzzle. Unfortunately, I can't feed him all day so I am trying to think of activities to keep him occupied. I wish I were more energetic and creative myself. I have been assured that he will settle into his new feel in a couple of days.
The picture above shows Sagan after being groomed. He is sitting on the front lawn surrounded by leaves. He is wearing a Halloween bandana.
Poodles have hair, not fur which means it continues to grow like human hair. Because of this, they need to be brushed a lot and have haircuts regularly. My first two guide dogs were poodles but they came to me as adults. I never knew about puppy coats and the fact that they blow that puppy coat. This is a critical time because the puppy hair and the new adult coat get tangled and matted very easily. I was brushing him most days and I could not keep up with the mats around his ears. The groomer suggested I cut his hair all the way down which will help control matting. I am curious to see how his coat grows in from here.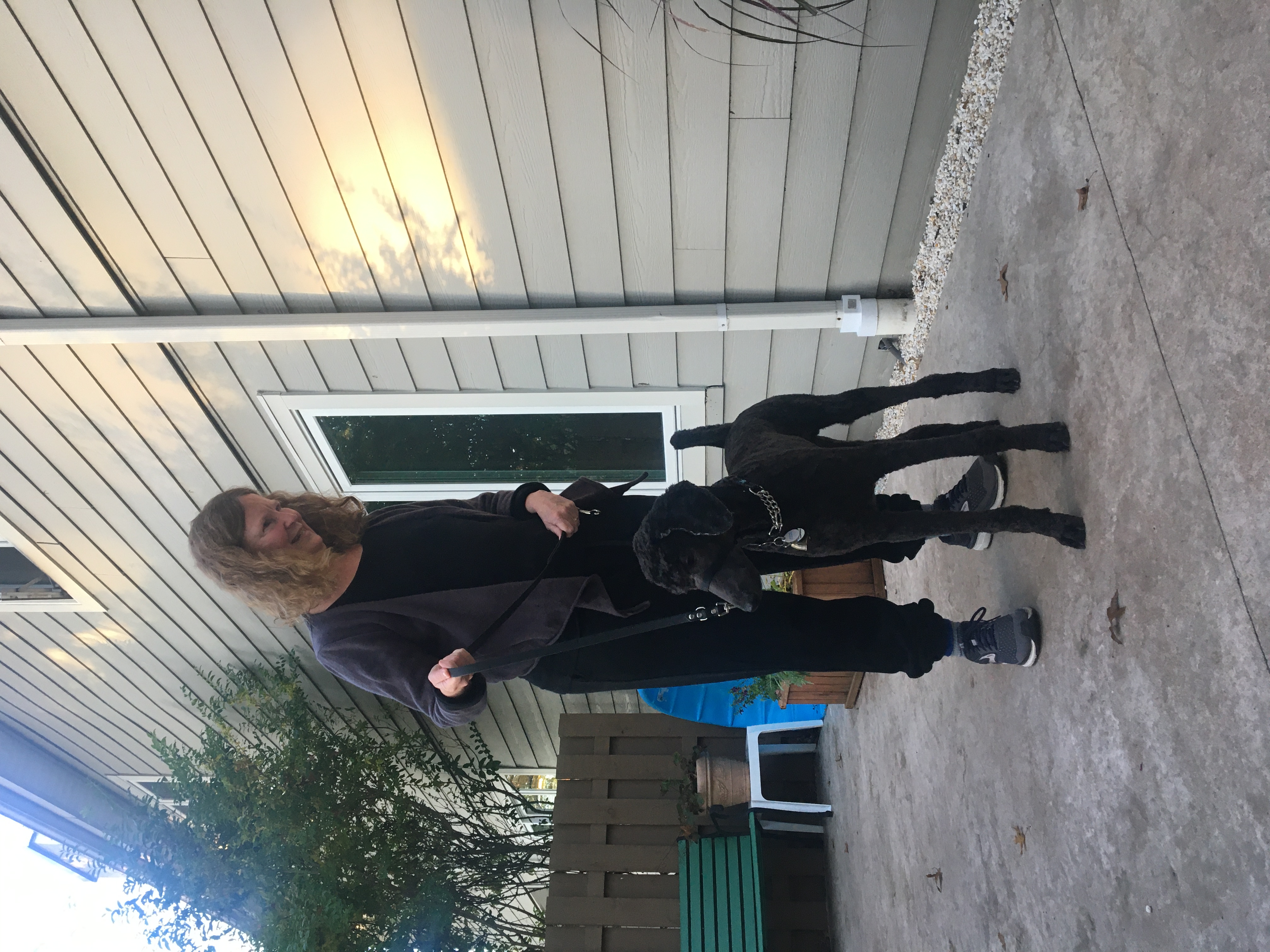 The picture above shows Sagan and Mel standing on the back patio. Sagan was just groomed. He looks a lot smaller.
Sagan's training is going well. He is getting almost daily long walks and time playing on a 20-foot leash. He runs and runs. This allows him to release the possible stress of a long training walk. We now break up the walks with a short playtime in the middle. His impulse control around other dogs and people is progressing nicely. My husband is doing all the long walks and the long leash play times. I wish I felt more comfortable doing this myself but it just doesn't make sense for me to do it, particularly since I live in a very dog-populated area. I have also discovered that walking with a cane and a strong puppy is too risky for me. Fortunately, my husband and dog trainer can take care of this part of the training. My job is house manners and obedience work. I do all the feeding, grooming, and teaching foundation commands. This last week I worked on teaching him how to back up in a straight line. This command is necessary for guide work later on. I have also been doing more enrichment activities with him to exercise his brain. He no longer gets food just plopped in a bowl and handed to him. I use lick mats and other food dispensing toys and puzzles so he works for his food. He seems to absolutely love it. I just read a book called Canine Enrichment by Shay Kelly which has inspired me to create puzzles out of boxes and egg cartons. It is messy but he goes crazy with the fun of it.
The picture above shows Mel and Sagan sitting outside at a picnic table. Sagan is relaxing after discovering vast amounts of goose poops at the park.
Poodles need a lot of mental and physical activity but they also need to learn how to relax if they are going to be successful at guide work. I spend time every day having him lie down beside me while I do silly things like clapping my hands and jogging in place next to him. I also require that he stay on his bed while I do kitchen chores. Normally he would be relaxing at my feet while I write this but today he is just too nutty. I needed a break from him so he is in his crate for a while. He also chewed through my favorite leather leash which had sentimental value. It was my fault for not paying attention every second while it was on him, so I need a time-out.
Link to book https://www.amazon.com/CANINE-ENRICHMENT-BOOK-YOUR-NEEDS-ebook/dp/B07WZ3DVWW/ref=sr_1_1?crid=26GTZBLPO0K0L&keywords=canine+enrichment&qid=1666278930&qu=eyJxc2MiOiI2LjI5IiwicXNhIjoiNS44MiIsInFzcCI6IjQuODUifQ%3D%3D&s=digital-text&sprefix=canine%2Cdigital-text%2C95&sr=1-1
Link to Lick mats https://www.amazon.com/Lickimat-Heavy-Duty-Reduction-Alternative-Turquoise/dp/B089DNHM7C/ref=sr_1_2_sspa?keywords=lickimat&qid=1666279519&qu=eyJxc2MiOiI0LjU5IiwicXNhIjoiNC42MSIsInFzcCI6IjQuNDIifQ%3D%3D&sr=8-2-spons&th=1
Link to food treat wobble bowl https://www.chewy.com/planet-dog-orbee-tuff-snoop-treat/dp/103061