My baby boy is turning into a man. How do I know this? Well, his baby boy parts are looking more like man parts and he has become much more intrigued with them. When he got his first real haircut, his image of himself changed. Now he is looking at his reflection in windows, mirrors, and even the oven door. He insists on barking at this beautiful specimen of a poodle. I hope he is not on his way to becoming a narcissist. Of course, I am not really worried about this but it is pretty amusing to observe him catching his reflection in every window and glass. I am told that this is normal teenage antics and that it will pass. He is also noticing other other dogs and squirrels which did not seem to be much on his radar before last week. I do not want to neuter him anytime soon so I hope we can move through this transition with patience and good humor.
Early last week we had a bit of a scare. My husband was playing with him on a long line and a flirt pole. The flirt pole had a springing action and somehow it broke. The broken parts flew back in his face and cut just below his eye. He yelped in pain and my heart dropped out of my body. It did not damage his actual eye and is healing nicely. Fortunately, he does not seem to be traumatized. He wanted to play with the flirt pole again within a couple of days. That is not going to happen so it has been disappeared.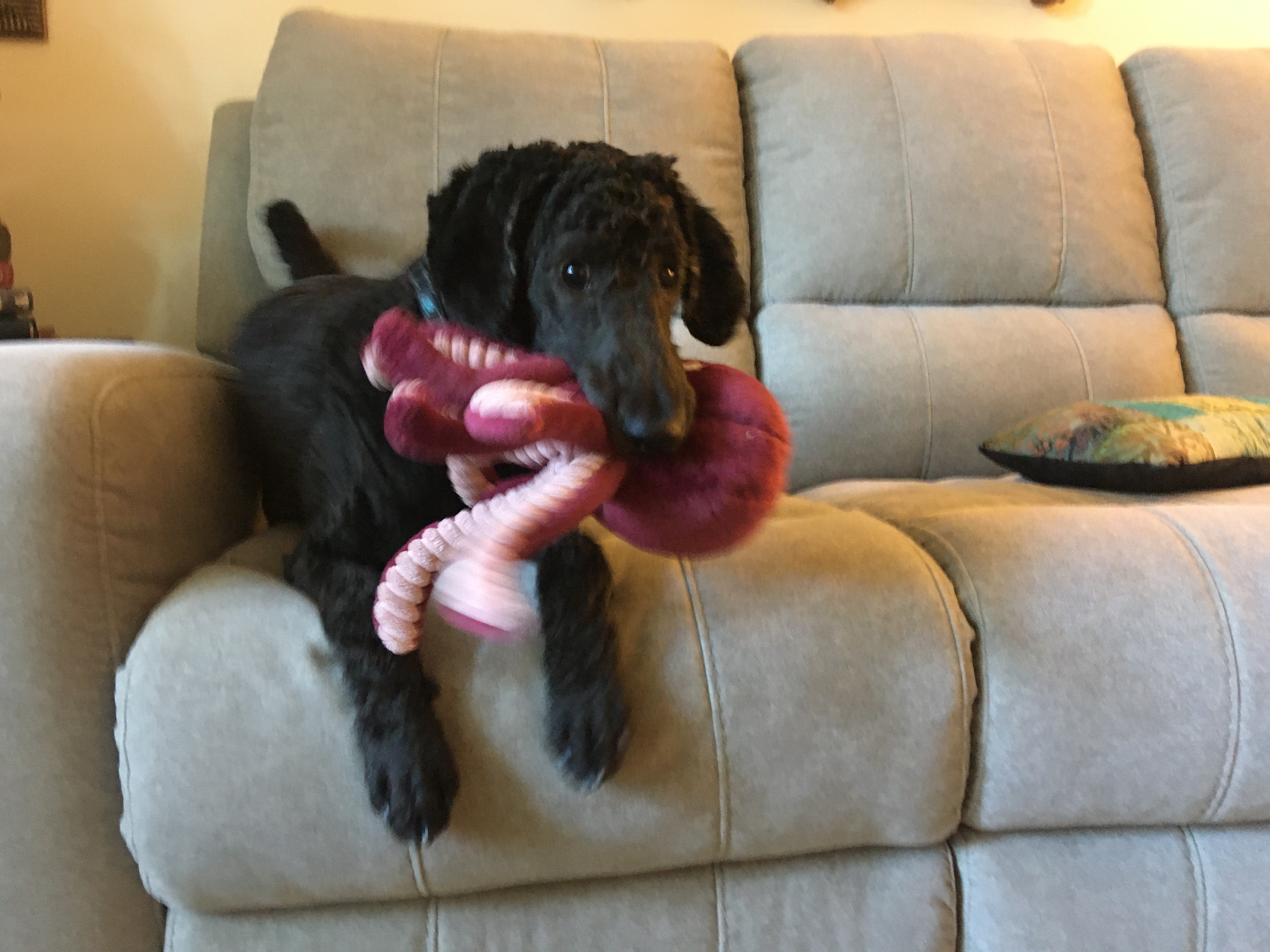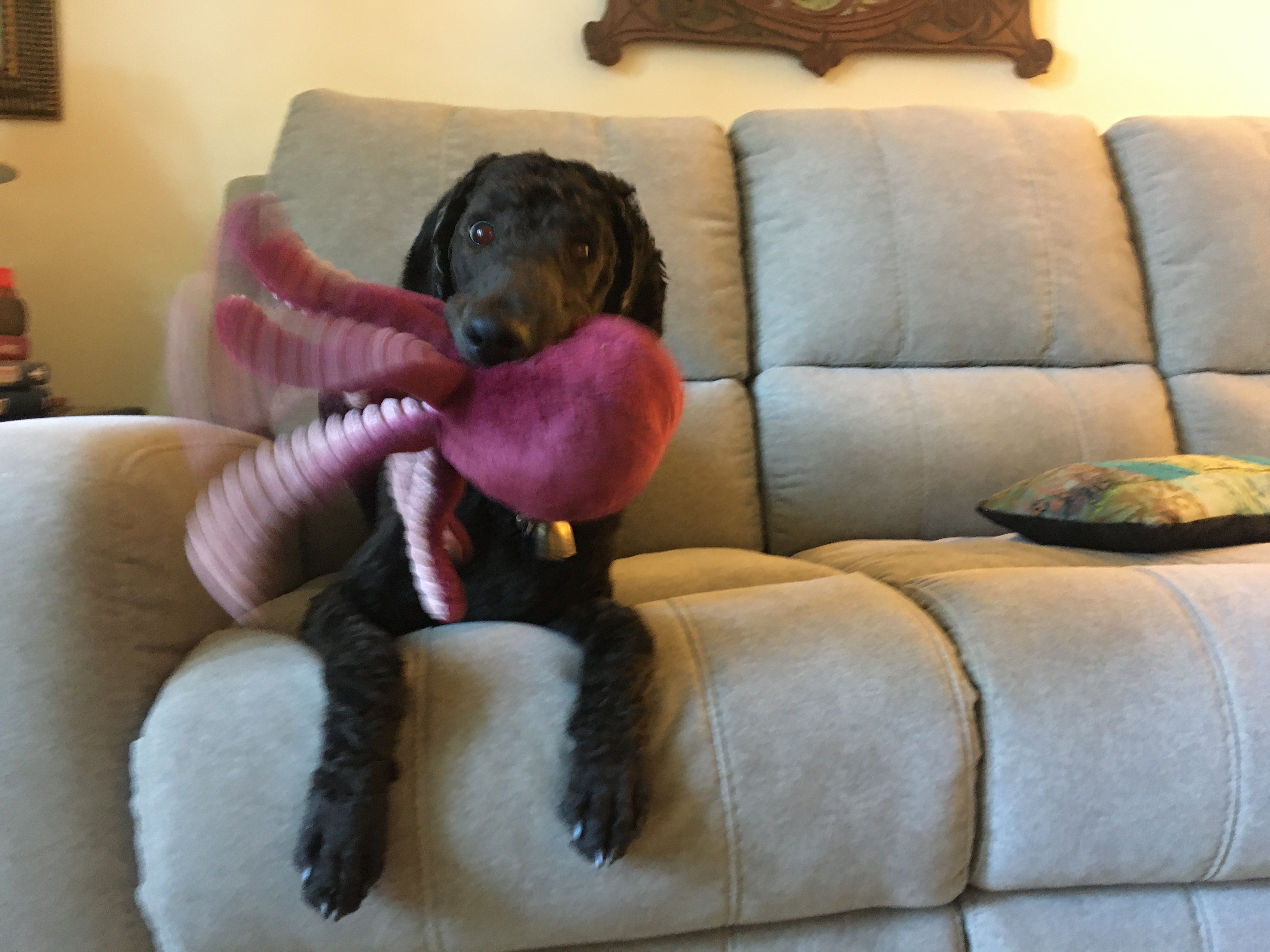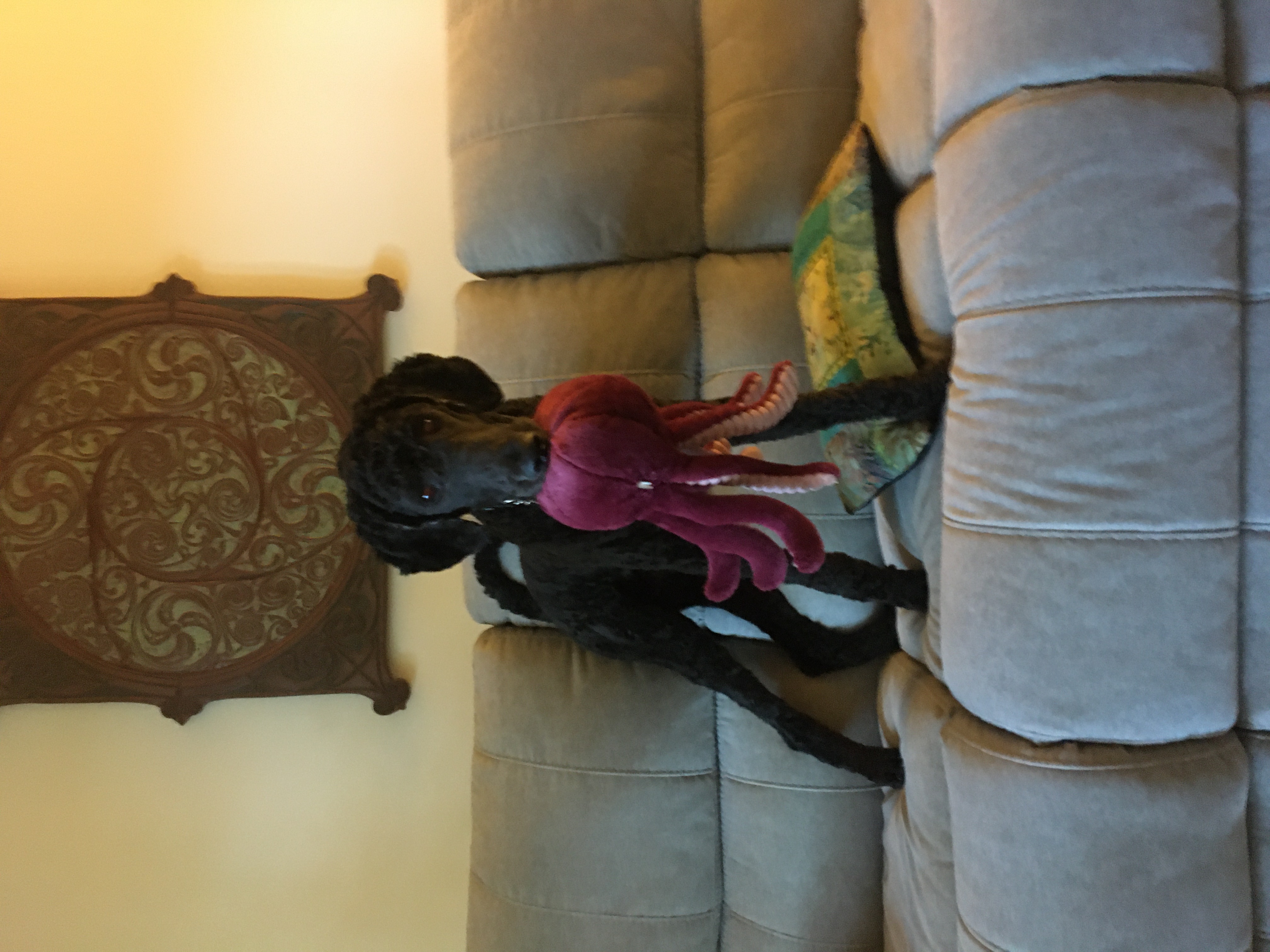 The pictures above show Sagan on the couch playing with his octopus. He would run to catch it and bring it up on the couch and than repeat the action several times over.
The last few days I have been reading everything I can get on adolescence in dogs. I have reluctantly come to understand that though my dog is a genius, his body is a major distraction for him much as it is with human teens, which simply means learning and listening to me is not his top priority. We have eased up on his training to take off some of the stress. It is back to basics and asking him to do things that we know he knows well. My main focus now is building trust and an even stronger bond. We are still working on his house manners and devising new games to keep his brain engaged. His outside walks are less stressful right now. He was getting too aroused at loud traffic and other dogs so now we are letting him observe from a further distance. We are working on his impulse control and loving him up while his mind and body figure out how to navigate hormones. I believe I took good advantage of his spongy puppy brain to teach him many things. Now is the time to reassess and to give him some space to grow up a little more.
I realized this last week that my ego is very much rearing up its head. I want to be the best trainer with the best dog that has ever lived. I can be competitive and driven when there is something I feel I have to prove. Ego has no place in dog training. It is not good for dog or handler. I know this intellectually but really living into egoless dog training is an exercise in self awareness. If I can keep my equanimity for the next ten months or forever, I will certainly be closer to true enlightenment.