This last week was different because my husband was traveling so Sagan and I were alone. We had a good time except when we didn't. I puppy-proofed the house more than before so I was able to give him more freedom to roam. Overall, I think this turned out well even though I found myself checking on him constantly for fear that he might have something I did not think of in my proofing process. Once again, "management" along with "meditation" saved my sanity this week.
I just read over my daily log and I had to laugh. Most of the notes I took besides noting food, water, elimination, training time, playtime, crate time, and a few other things, read like a behavior file of a true adolescent. The week began with me rearranging the house and putting a bed for him in our living room. He thought it was interesting at first but he won't sleep on it unless there are a whole lot of treats involved. Then, we were playing crate games and he laid down on top of his crate very relaxed and satisfied with himself. He did what I told him to do but not exactly. The funniest thing was when he had freedom and I was happily doing some computer work, I heard an odd sound coming from another room. It took me a minute to convince myself that I really needed to go check on him. When I got to him, he was contentedly gnawing off the foil of a champagne bottle. It is such a poodle thing to do, so I got a good laugh. Needless to say, the wine rack got relocated. I decided to put the champagne in the refrigerator for some unknown celebration. Laughter saves a lot of adolescent puppies.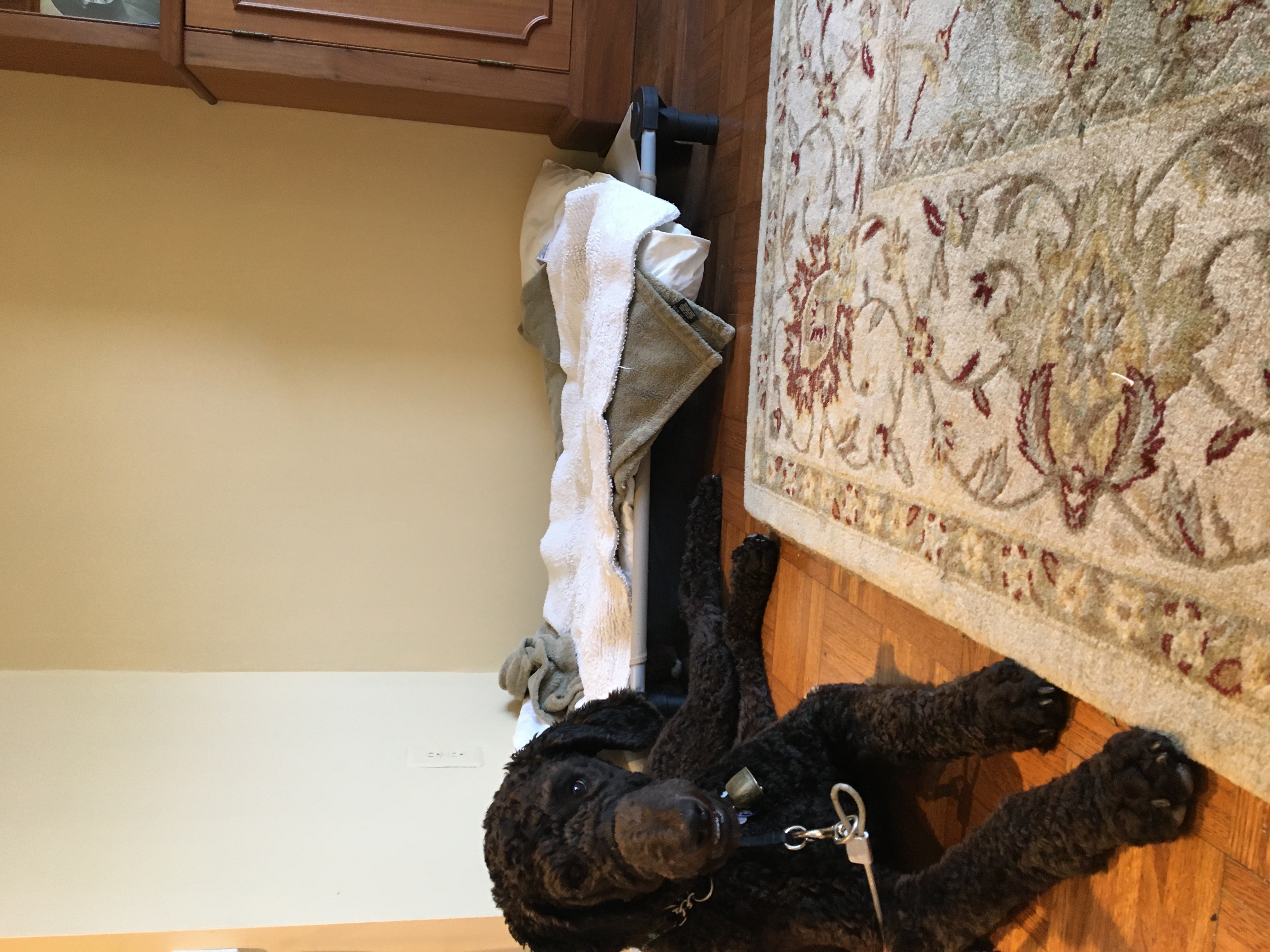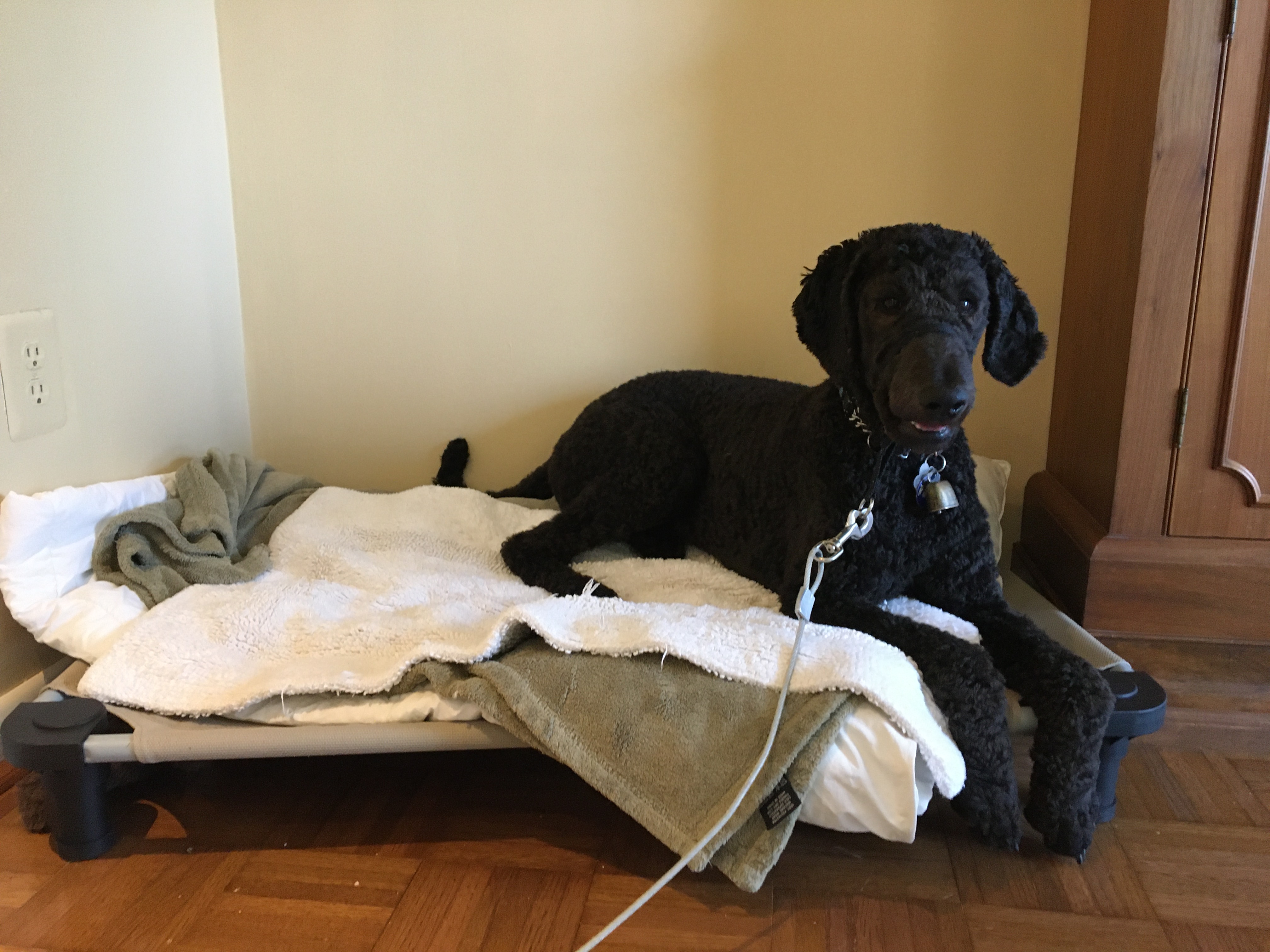 The 2 pictures above show Sagan laying on and beside his bed in the new living quarters that we set up for him.
There is one behavior that started this week that I find disturbing. With his new freedom and his new hormones, he has begun to use my body as an object to bounce off of and to mouth. It does not feel aggressive at all but it is nonetheless an unacceptable behavior. He probably weighs close to 50 pounds now and he is lightning fast. He zooms around like a crazy dog and body slams me and he nips. It is very hard to be blind and catch an over-aroused dog. My strategy was to turn my back to a wall and hold on. He finally got bored with me and went elsewhere for his excitement. My hope was it would not happen again so I gave him the benefit of the doubt. Well, the next day he did it again. I caught him and placed him in his crate. I noticed that he immediately plopped down and went to sleep. I realized that this is his new indication of an over-tired or over-aroused dog. His crate is our best friend. Unfortunately, it happened again the next day. I had his house line on him so I could catch him if I needed to which I did. Susie, our trainer suggested that I immediately tell him to sit and do some obedience with him. She also said to have him jump on and off the couch over and over. This way our interaction ends with both of us feeling better. This is working beautifully so far. Having a trainer to call on is a great help.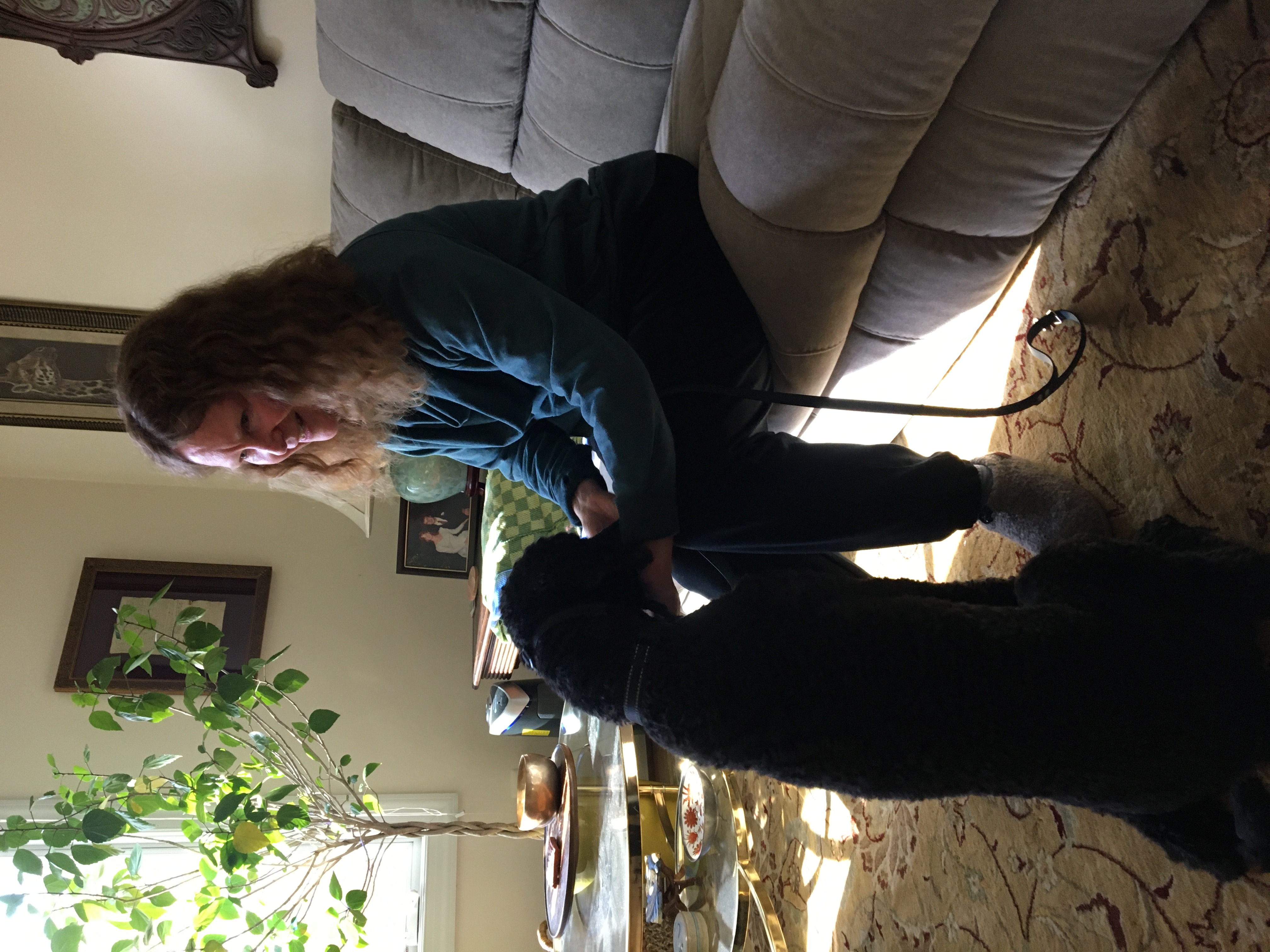 The picture above shows Mel training Sagan in the living room. Mel is sitting on the couch as she hands Sagan a treat after he follows a command.
I want to mention a training exercise I am doing now with Sagan. It is a Relaxation Protocol developed by Karen Overall. It is basically having the dog in a down stay while you stand there or do other moves like clapping your hands, walking around the dog, and leaving his view. Treats are dispersed at intervals. I have enjoyed doing this and Sagan seems to settle easier and his down stay has improved immensely. The protocol is on YouTube. The link is https://www.youtube.com/watch?v=aSQgvP3bais&list=PLohBu8iRdw_Apn72D9N0L25d4Lfw6kIqW
Poodles are kind of like highly intelligent and curious children. They have lots of energy and they need their minds to be working. If they are not provided with mental and physical stimulation, they will create their own which is often less than desirable behaviors. As a result, my management toolbox is growing. I introduced nose work last week. I hide his breakfast kibble all over the house. Some are in Kong toys and some I just place on the floor. He is required to sit-stay while I do this. I go back to him and treat him for staying so patiently and then release him to go search out his breakfast. He loves it. He is still getting his raw food in a bowl but everything else he works for. This satisfies his brain and his belly which gets him ready for a nice morning nap.
I want to tell you one more thing. The tribute I wrote for Jingles got published in our local newspaper. I sent it to them in hope that people will connect the dots between pesticides and increased cancers and organ failures in our animals and ourselves. Here is the link in case you are interested. It is similar to the blog post I wrote here a few weeks ago. Link to article, https://www.theintell.com/story/opinion/columns/guest/2022/11/05/doylestown-resident-believes-pesticides-felled-her-guide-dog-jingles/69620483007/