Toy failures are my gripe this week. Sagan needs new toys or maybe it is me that needs him to have new toys. Truth be told, I am addicted to new ones for him. It is so fun to watch him get so excited. Well, I was told that I am "spoiling" him. I prefer to think of it as "enrichment". Anyway, I ordered a food dispensing ball which he absolutely loved for about one hour until it broke. Then, I ordered something that caught my attention on FaceBook. The idea of it was brilliant I thought. We opened the box and he went crazy for it. We played together for about 15 minutes and it ripped. I was so bummed out. I was determined to get him something, so we went to the local pet store. I got three more toys. One lasted a day before it ripped, he ripped the cover off of another but it is still viable. The last was a rubber food dispensing ball. He has that one still but it is too easy for him. Needless to say, I am frustrated and still looking. My goal is to find a toy that is not food related and that we can play together without it ripping.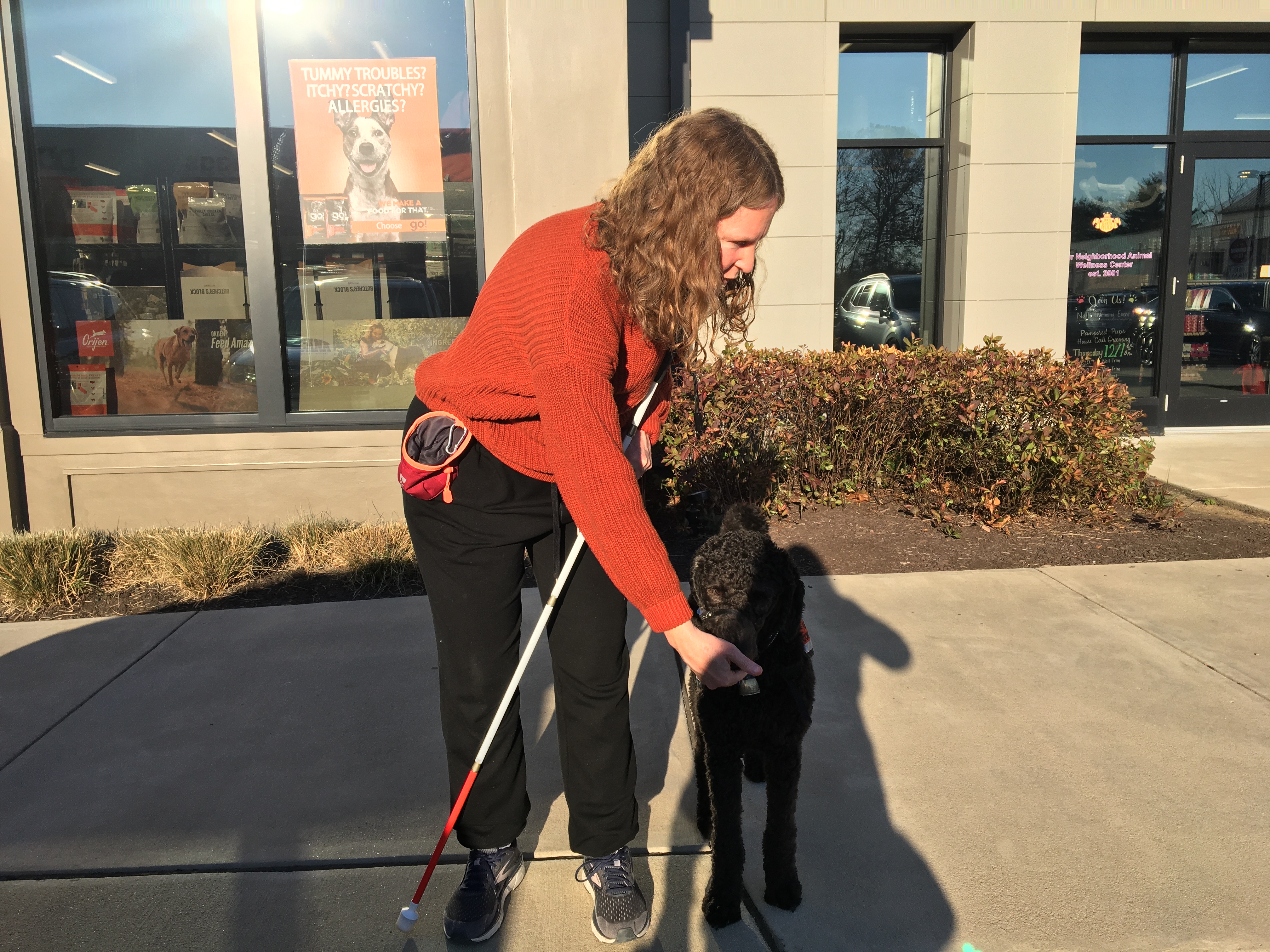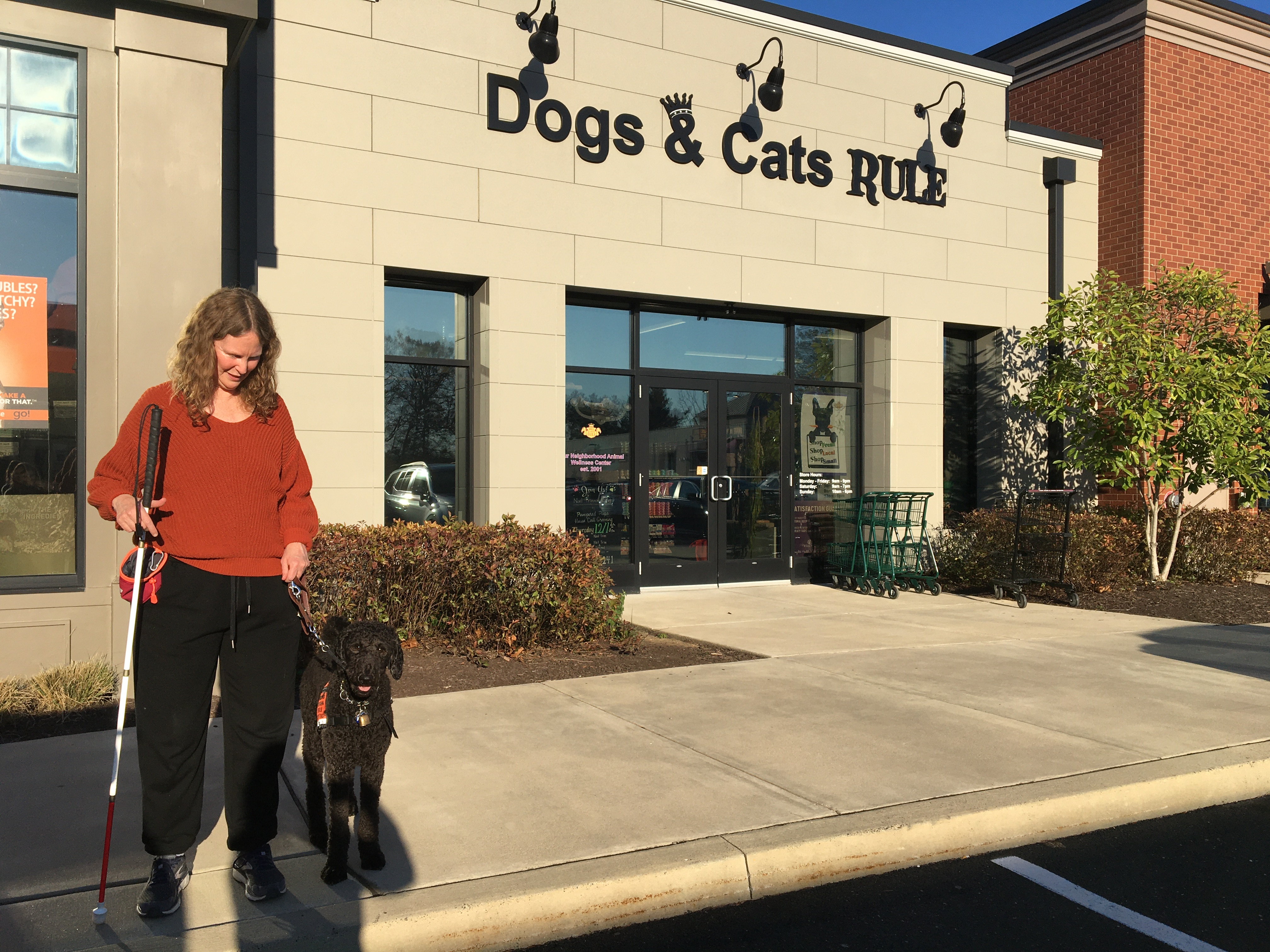 The 2 pictures above show Mel and Sagan outside of the Dogs and Cats pet store.
Sagan is 46 pounds now. I am so glad he loves jumping on his grooming table via a chair because lifting him is now too much. He seems to really enjoy his grooming sessions which is a good thing because his puppy coat is coming out and he gets mats and tangles. I brush him about 4 times a week. Somebody told me about detangling spray which is helping a lot.
His training is going well. I taught him how to shake hands this week. It took about a half-hour over two sessions. I am going to teach him to turn or roll over on the grooming table so I can brush both sides of him without going through an ordeal to change his position. We are mostly working on house manners. He is great as long as nobody else is watching. It is time to engage other people to help with door greetings and staying on his bed. I also need to teach him not to pass on the stairs. Since he has more freedom to roam in the house now, this has become a hazard.
The best thing of all was that he got to actually play with another dog in a fenced-in yard. Our trainer set up a play date for him. Sagan had never played in a free area with another dog since I got him at 8 weeks old. We have been using a long line for his running exercise but I wanted him to be able to stretch out and play. When he first met the new dog, he attempted some dominant behaviors but the other dog quickly put him in his place. All went great after that. They ran and ran. It was so fun to watch and Stu and I met some new friends too. The plan is to do this at least once a week.
Back to toys; I ended up making him a toy out of a canvas bag. I put a couple of his other toys that he does not take much interest in and tied them up in the bag. He carries it around in his mouth. It has lasted three days now. Today I am going to make something with an old pair of jeans. I am not going to buy any more toys with stuffing in them. I wish some enterprising business-minded person would create safe toys that could last more than 15 minutes.