Sagan went for his first yearly wellness vet visit last week. He was not quite as well behaved as he was when he was younger. His adolescence was showing. He is in a phase where he is sure that he needs to bark or whine at other dogs so he was quite vocal at the vet's office. The vet said he looks great.
Sagan weighs 51 pounds and is 24 inches at the shoulder. He may get a little bigger over the next few months. I am satisfied with his size. He is not too much for me to handle and he has enough solidity to get enough feedback from a guide harness. I actually ordered his harness which will be royal blue with a black handle. I will be presenting it to him in small positive increments over several weeks or even months. I want every aspect of the harness training to be as fun for him as I can make it.
The picture above shows Sagan with Mel. Sagan is doing the "paws up" command where he places his 2 front paws on the first step and pauses before going up the stairs.
I have given up on any kind of stuffed toy. He loves them but he always manages to tear a hole that stuffing can escape within a few minutes of playing. I have been giving him empty boxes with little or no glue on them. I put in a few treats, close it up or even crush it up some. He shreds it to bits with great joy. Fortunately, he has stopped eating the cardboard and only goes for the treats inside. It makes a huge mess but it is fun to watch him be so excited. His marrow bones are still the best for keeping him occupied and the vet says his teeth can handle the bone chewing.
I am choosing at this point not to give Sagan heart worm or flea medications. I treat his coat before we go out which will hopefully keep fleas and ticks away. We will be getting his blood tested every year to make sure he is clear. This is a controversial choice and is not right for every dog. There are many variables that inform this decision. The vet I trust agrees that this is a good approach for where we live and our lifestyle. Everyone needs to weigh the risks and benefits for yourself.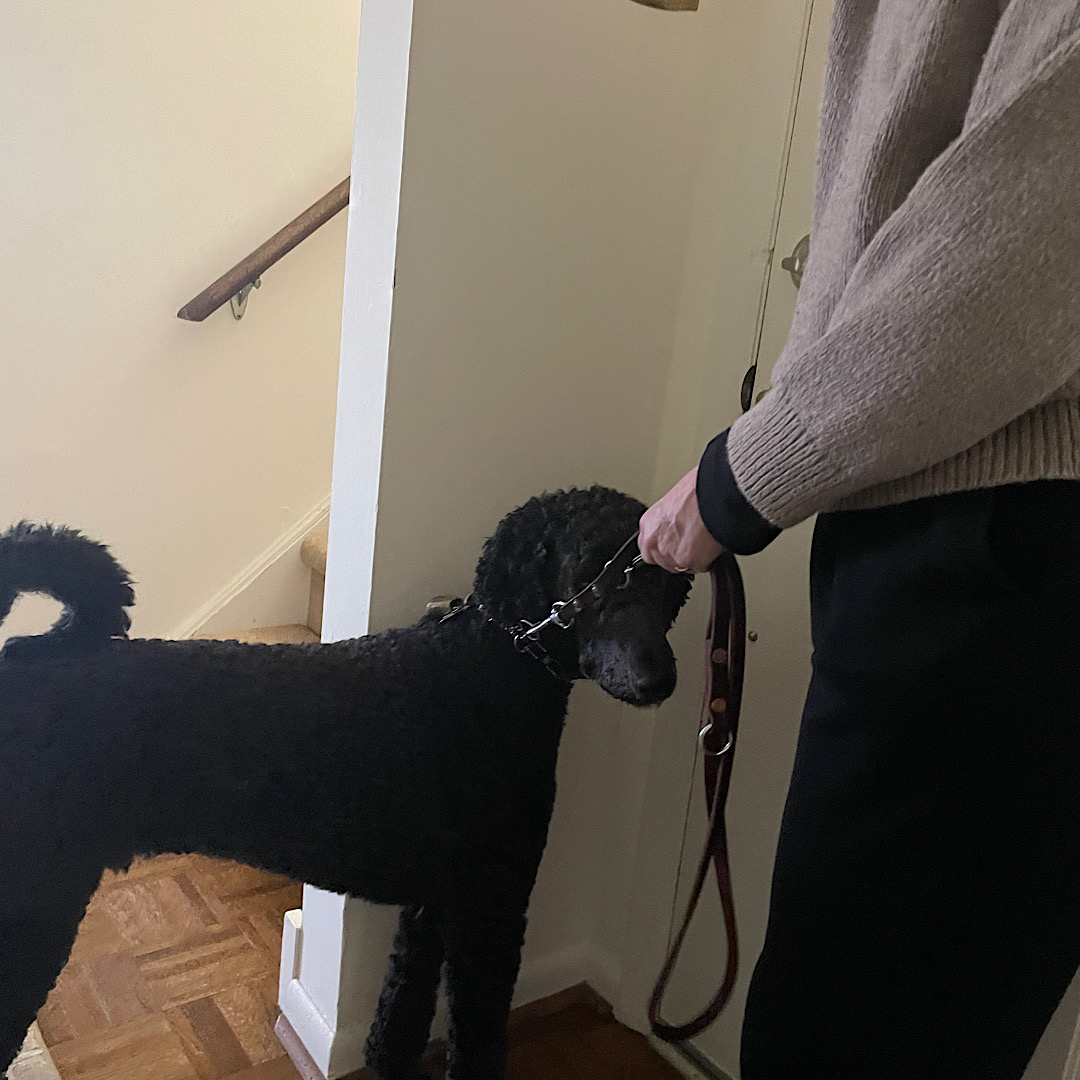 The picture above shows Sagan doing the "find the door" command.
We have been using the prong collar now for about 3 weeks. I have discovered that more people use them than admit it. I resisted it for a long time but the switch has made a huge difference. Sagan does not resist it at all. When he hears the jingle, he comes over and is completely relaxed when we put it on. It is so much better than the Gentle Leader or the other head collar I was using. I think the fact that he has nothing over his nose makes all the difference to him. I will be happy when we can stop using it but for now it is a great training tool.
Sagan's coloring is considered to be blue. As a puppy he was solid black. He has what is called a "fading gene" which means he will lighten over the first two years or more of his life. After his last grooming, it is more obvious that his coloring is changing. The lighter hair is highlighting his coat now. He will be most handsome no matter what his color.
Training is going well. He has learned to find the toilets and sinks in our house. I will start generalizing the behavior in other locations soon. My biggest challenge is my own ability to be consistent. Inconsistency is the biggest enemy of trainers. I have never been a rule follower or one who sticks to a routine for very long. My trouble is that I train something one way one day and the next day I can't remember what I did the day before. I am working very hard to train myself to be more precise in exactly how I do things. Hopefully , it will all have a happy ending and Sagan and I will be a solid working team.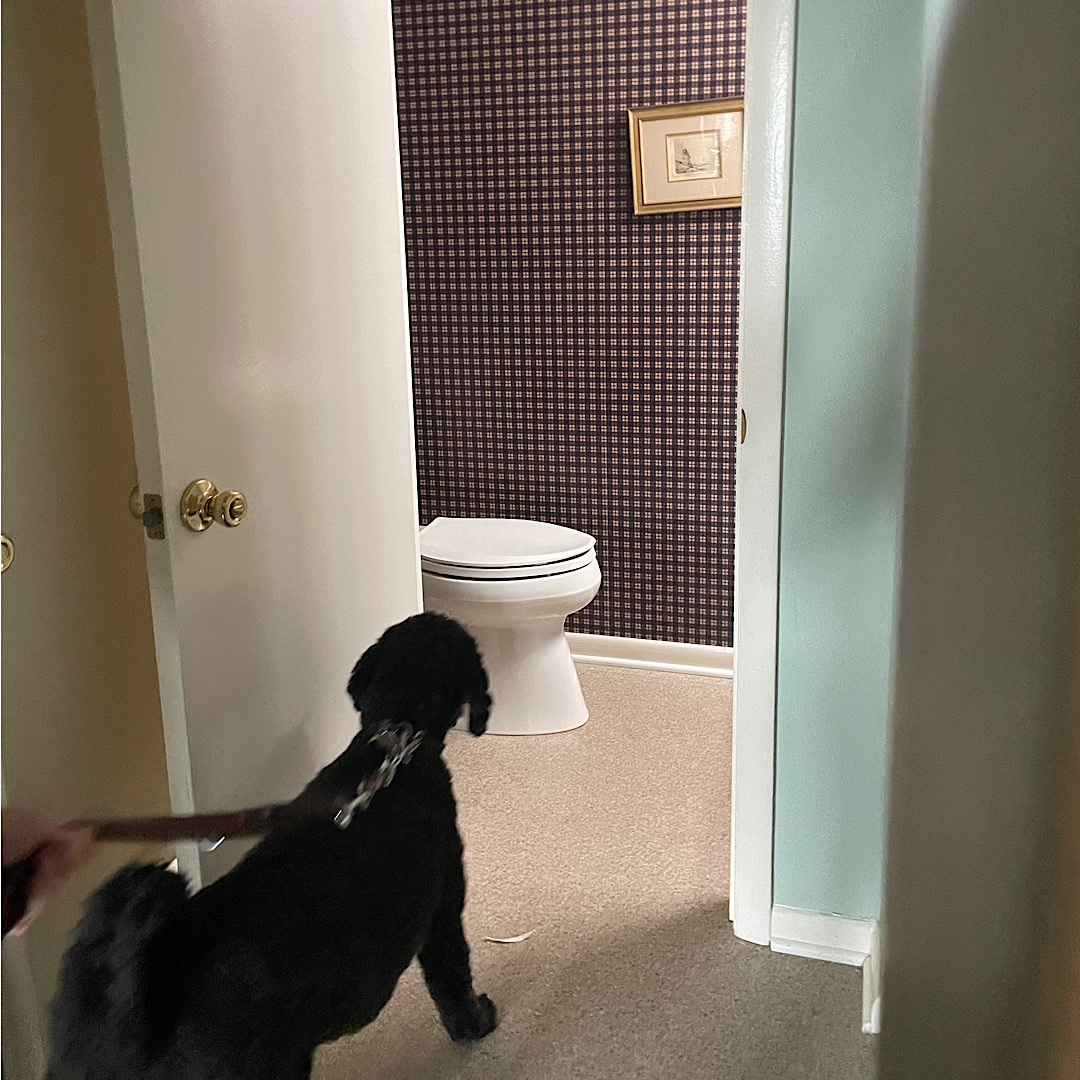 The picture above shows Sagan doing the"find the toilet" command.