My son's wedding was the big event this last week. Sagan went everywhere with us. The trip took about 6 hours and we stopped once. We covered his crate so he could relax better. I hope to wean him off of the covering but this was his first big trip and we needed to make it easy on all of us. I did give him some CBD dog treats before we left. I am not sure if that helped him relax or not. Next time we make the trip, I will not give him anything and see what happens.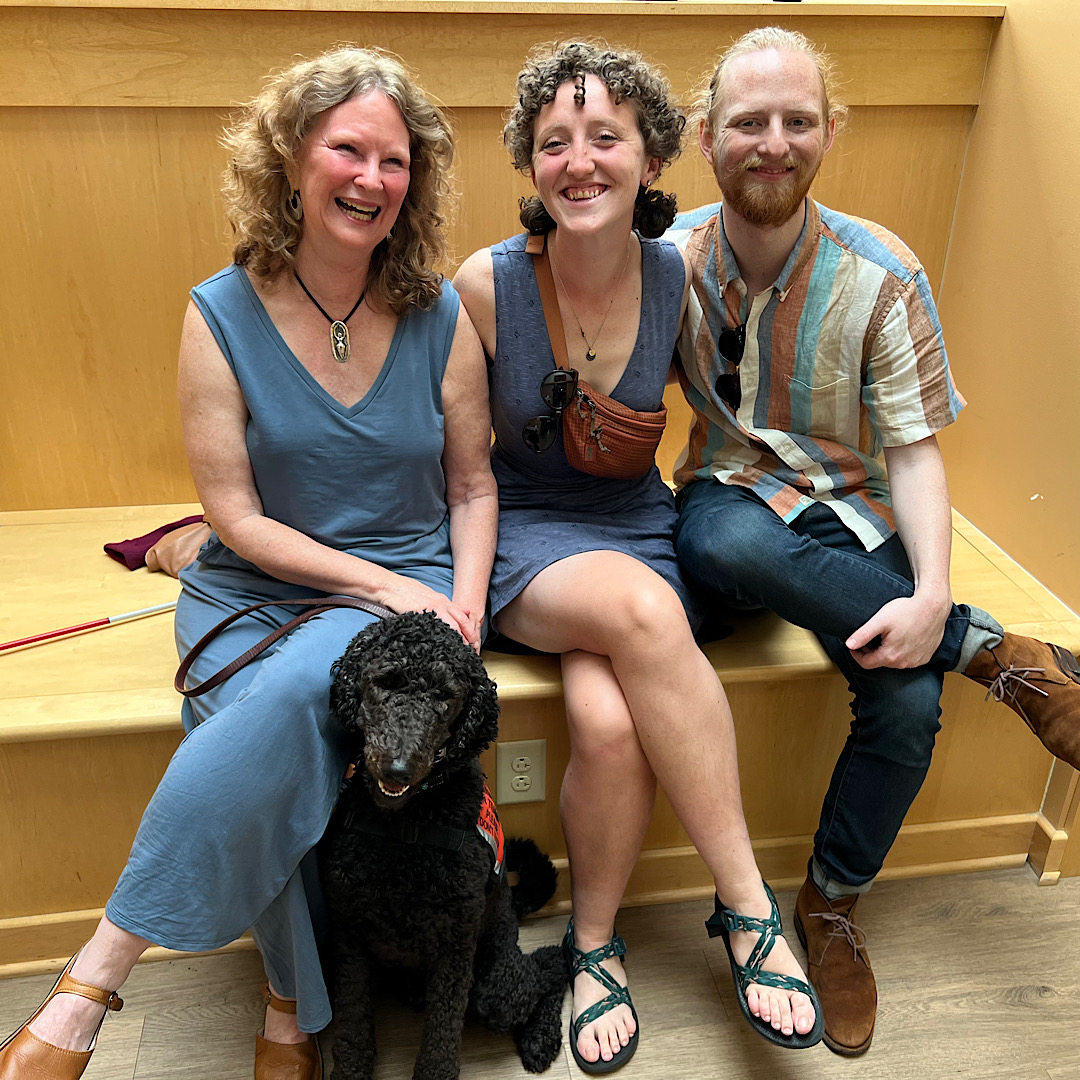 The picture above shows Sagan relaxing with Mel, Emily and Cole during rehearsal at Pittsburgh Friends Meeting.
Sagan and I walked in together with Stu. He Sagan was quite regal with his bow tye. The bow tye also had a pin on it that was the face of Carl Sagan in a star. The pin said, "Hail Sagan!". He did not seem to mind wearing one more thing around his neck. He stayed down for most of the wedding. He popped up a couple of times but it was no big deal. I was most grateful that he did not vocalize at all.
After the wedding there was a reception party in a park. The music was loud and there were about 150 people . We took all of his gear off and let him be a dog. He was still under control but we let people pet him with proper manners. He was calm and gentle. He was exposed to loud music, flashing lights, and crowds dancing all around him. He may have been a little shell shocked but we did not keep him in these situations for long periods. It was a nice day and a bunch of us sat outside for much of the time.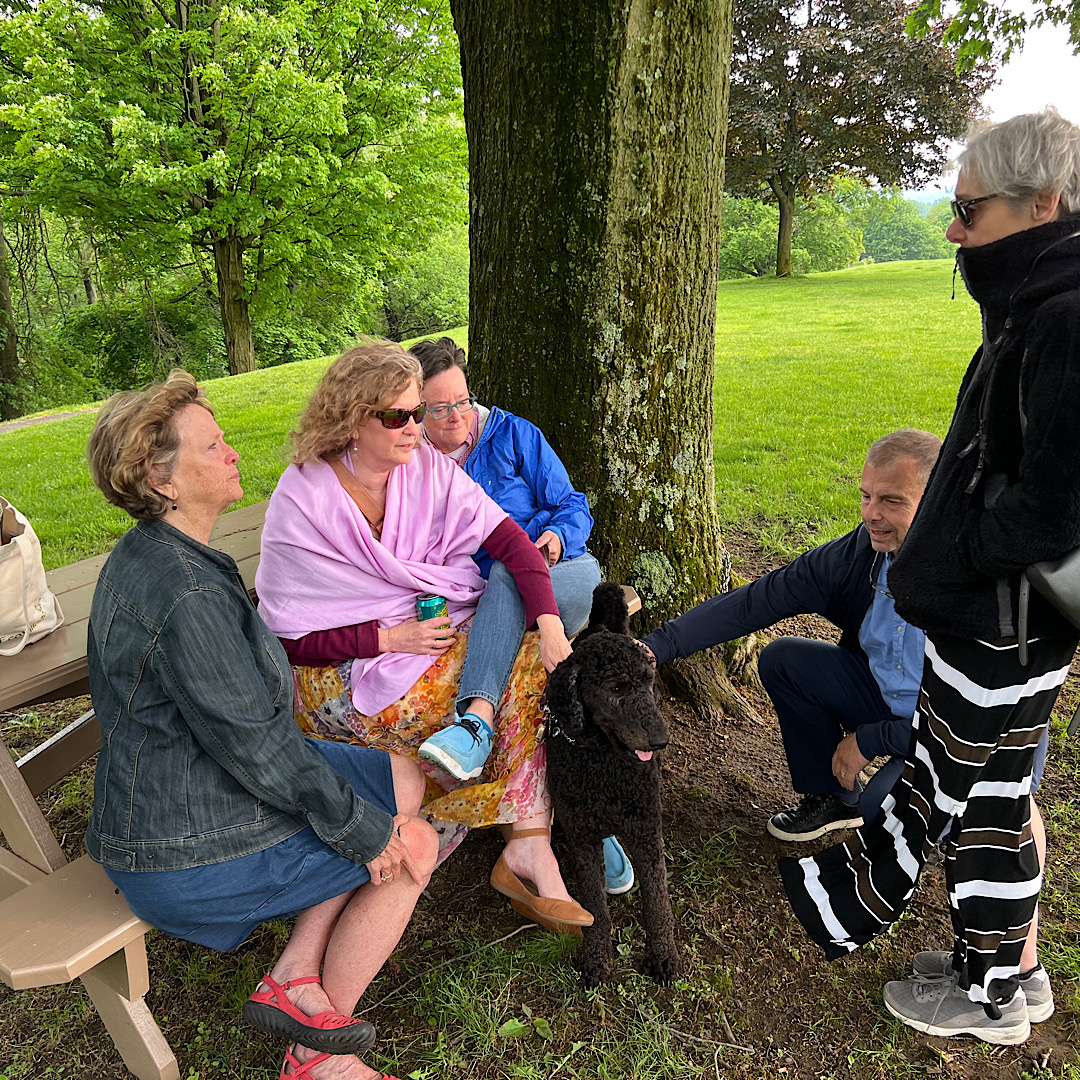 The picture above shows Sagan hanging out with Quay, Mel and Karen at the party and then recieving pets from Ken and Carla.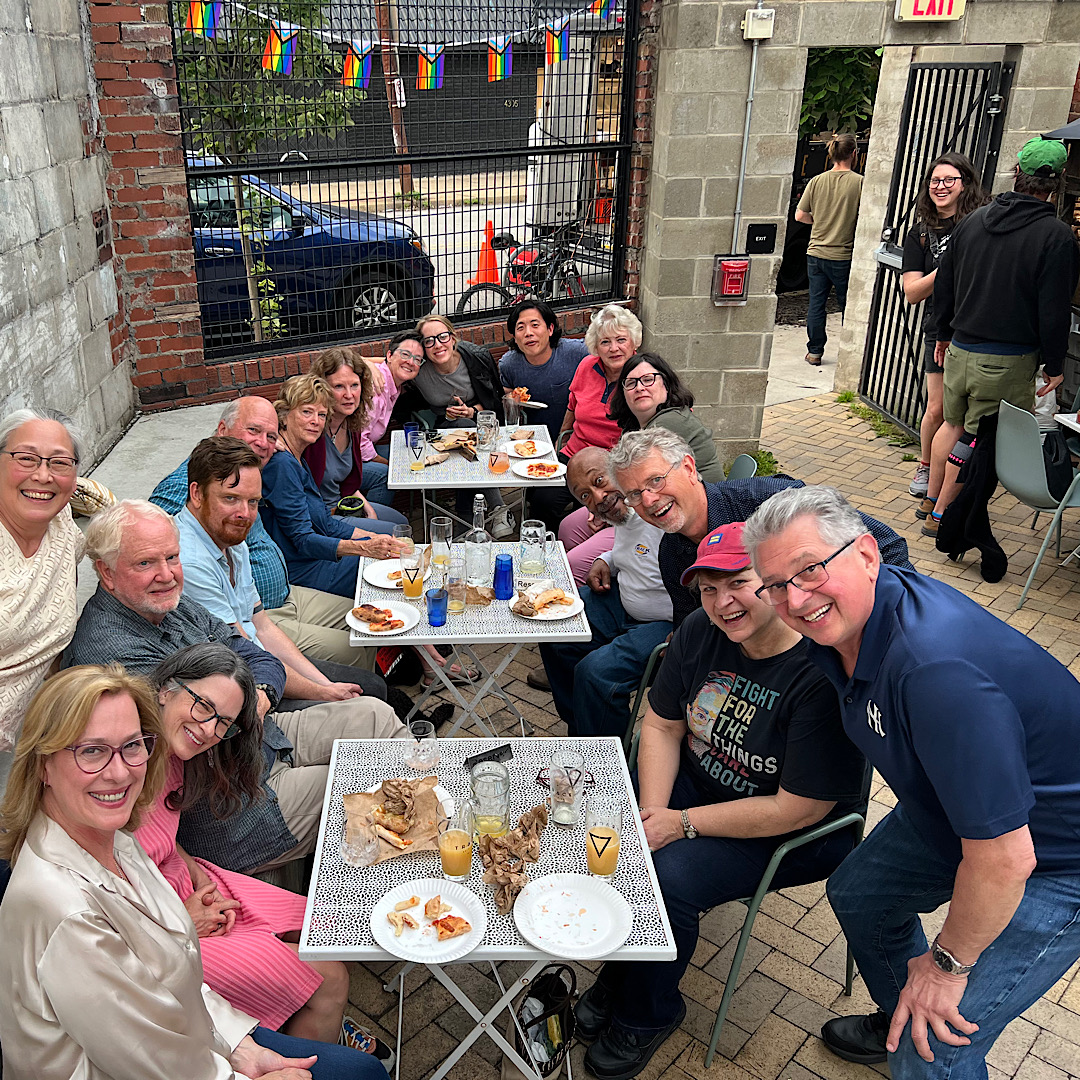 The picture above shows Sagan down and under in a loud crowd. You can see parts of him through the legs of the second table on the left under Quay and Mel's feet.
The next day we went to Rachel Carson EcoVillage where we will be moving in a few months. There are some nice straight long paths so I put on his real harness and we went for a walk. He found a seat for me and stopped at a driveway where the color changed. I am very proud. His pace and pull are quite good. It felt so good to be holding a handle and walking alone. He was concerned with my family members walking in front and in back of him. He kept turning his head to see where everyone was placed. We need to work on his ability to remain steady. He tends to speed up and slow down at inappropriate times. I believe that all of this is fixable and now we know better what are his strengths and areas of growth. I also learned that I am extremely stair phobic. This is an area that will require a lot of practice and proofing. I want to trust him. Trusting my former guides has been an issue for me so there is room for growth for both of us. One of my owner trainer friends told me to learn how to fall. This may sound silly but it is a great idea. I also want to train Sagan to stay by my side in case I do fall.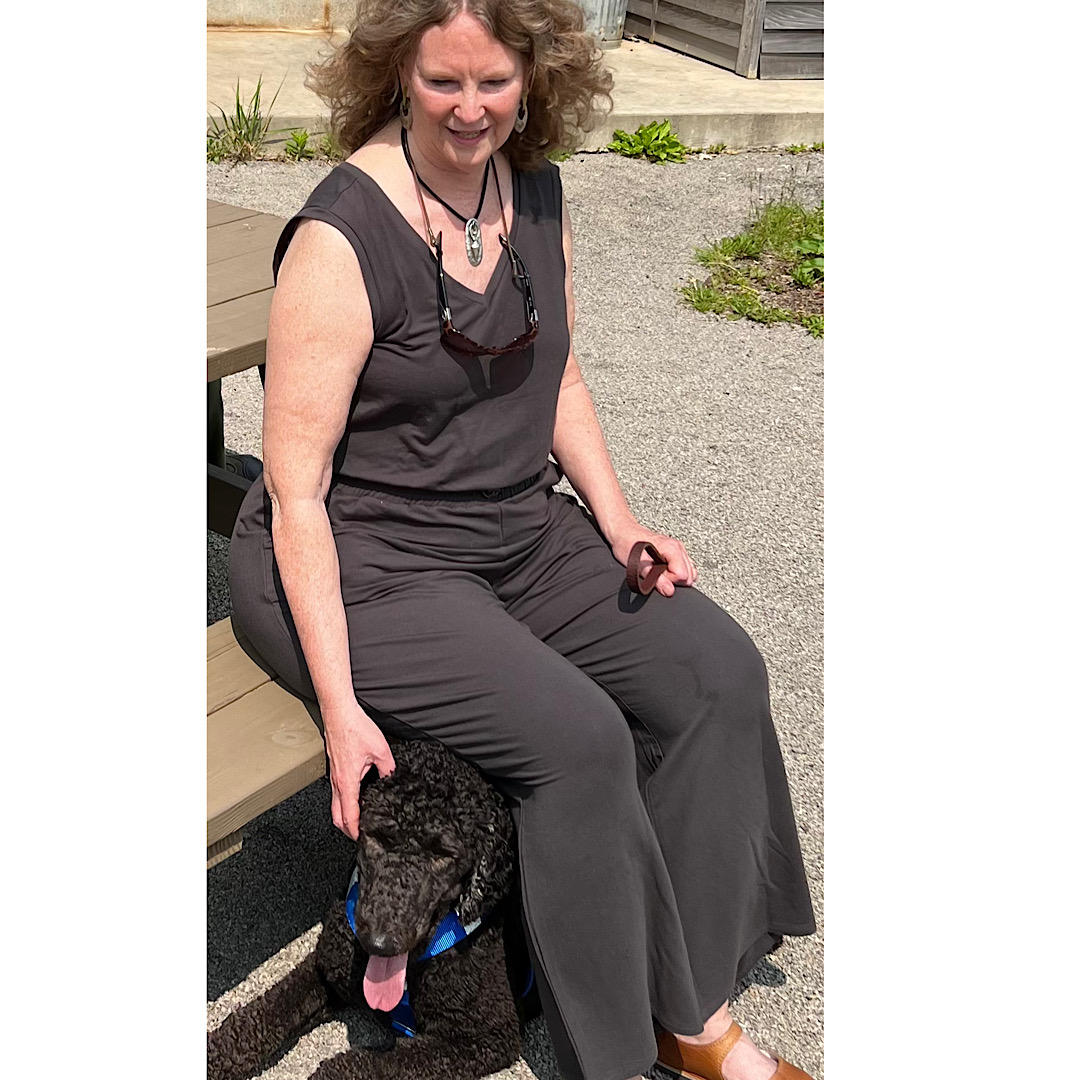 The picture above shows Sagan and Mel sitting at a bench on campus.
Walking in harness with Sagan at Rachel Carson EcoVillage was truly a highlight. I am imagining us walking all over the place with ease and grace. It is so quiet and beautiful there. We will be able to play in the grass and other open areas without worrying about pesticides. That is a huge relief for me. I never want to go through watching my dog die from pesticide exposure again. If anyone reading this is interested in living in a community of people who have stewardship of the environment and believe in living a regenerative lifestyle, there are several units still available. You can sign up for an introductory session on the website. Introductory sessions happen 3 times a month. They cover a tremendous amount of information. https://rachelcarsonecovillage.org