Last week feels like a blur. I know a lot happened but I am not remembering everything. Sagan had two playdates with his Leonberger friends and a golden retriever friend who is new to him. They all had a great time. Sagan is so tired afterward that it takes him a day to recover. We forgot to take pictures.
We have had to step back on our walks because Sagan is getting too amped up when he sees dogs in the distance. He does pretty well with dogs that are close so we are devising a strategy to help him get by this phase. I also think our walks were too long and he became overstimulated. This is normal to take a few steps backward according to the developmental stage of the dog. Sagan seems to be going through a high anxiety period so gentleness is required. Stu and I both have a tendency to skip over the small steps needed to reach the desired goal. Sagan is teaching us to keep the steps small. Impatience has no place in dog training. As I have said before, "embrace the turtle attitude."
The highlight of the week was when a fellow owner-trainer friend stopped by to meet Sagan. She has been a puppy raiser and trained her own dogs so I respect her opinion. She and her husband helped us work with Sagan. Below is what she posted to a guide dog owner-trainer group.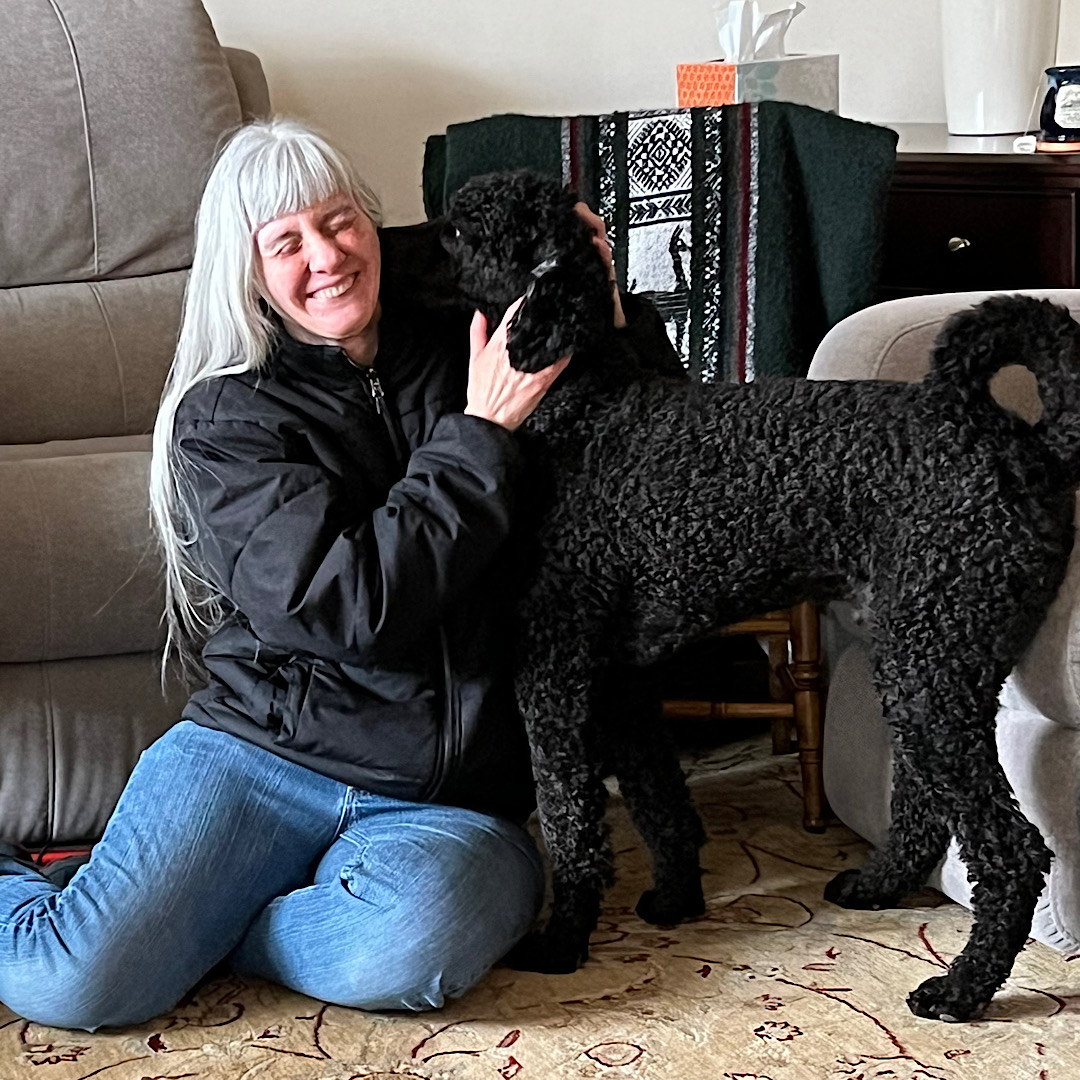 The picture above shows Eileen with Sagan in the living room. Sagan is kissing Eileen's face.
"I met Sagan this weekend. Wow, Mel wasn't kidding when she says he catches on instantly. He was sniffing me and got a little too personal. I said "private property" and lightly pushed him away. He instantly sat back. Then he found the dog food in a zip lock in my pocket. Again a light push and I said "no pickpocketing" and he sat down instantly. Next, I tried to show him something he had never done before. He offered up several behaviors before I figured out how to show him what I wanted. As soon as he understood my intentions he took my lead and stepped with me like a dancer. Wow. He also sat in my lap at least 4 times giving me plenty of poodle hugs. LOL, I'm still a Labrador addict but Sagan the poodle is everything poodle lovers gush about."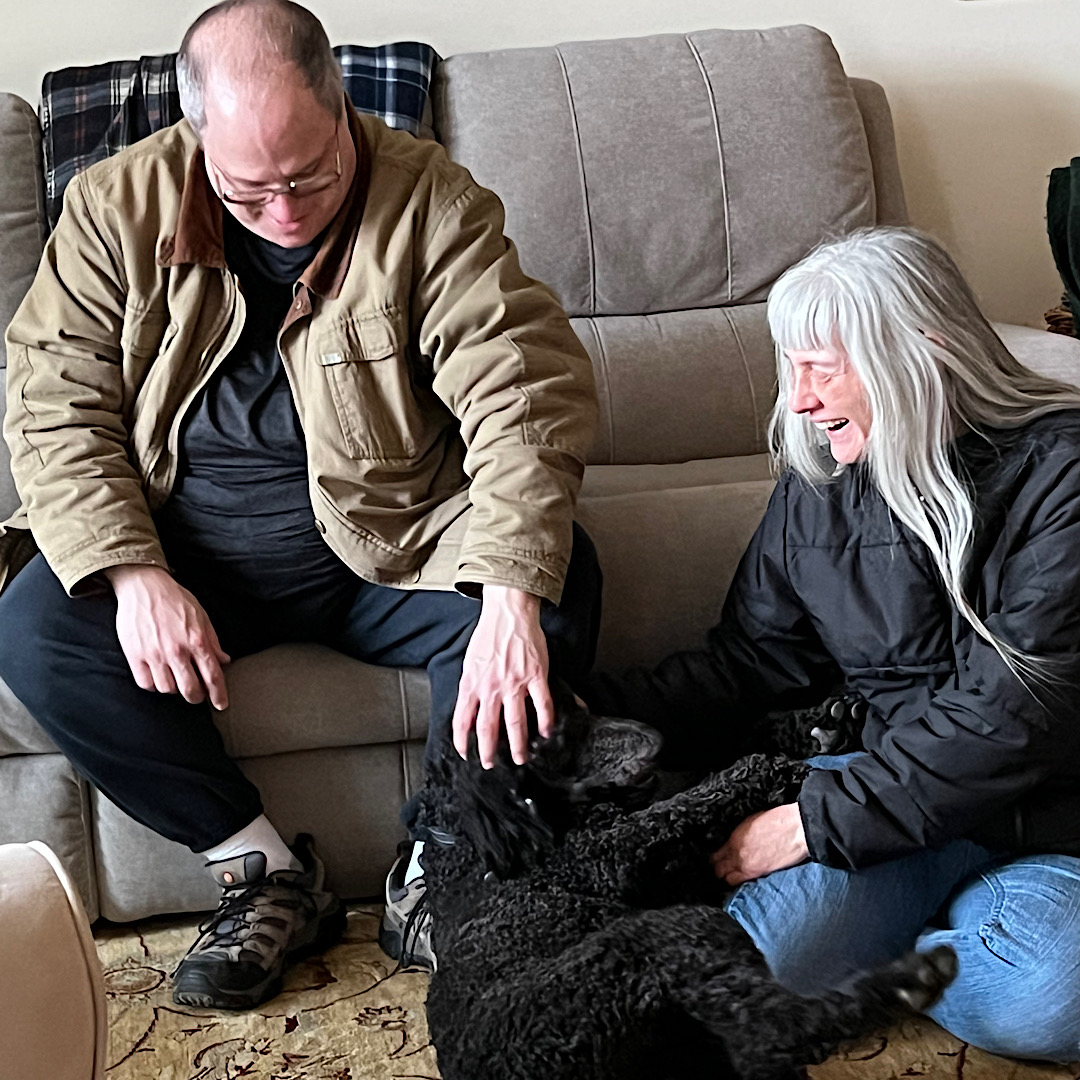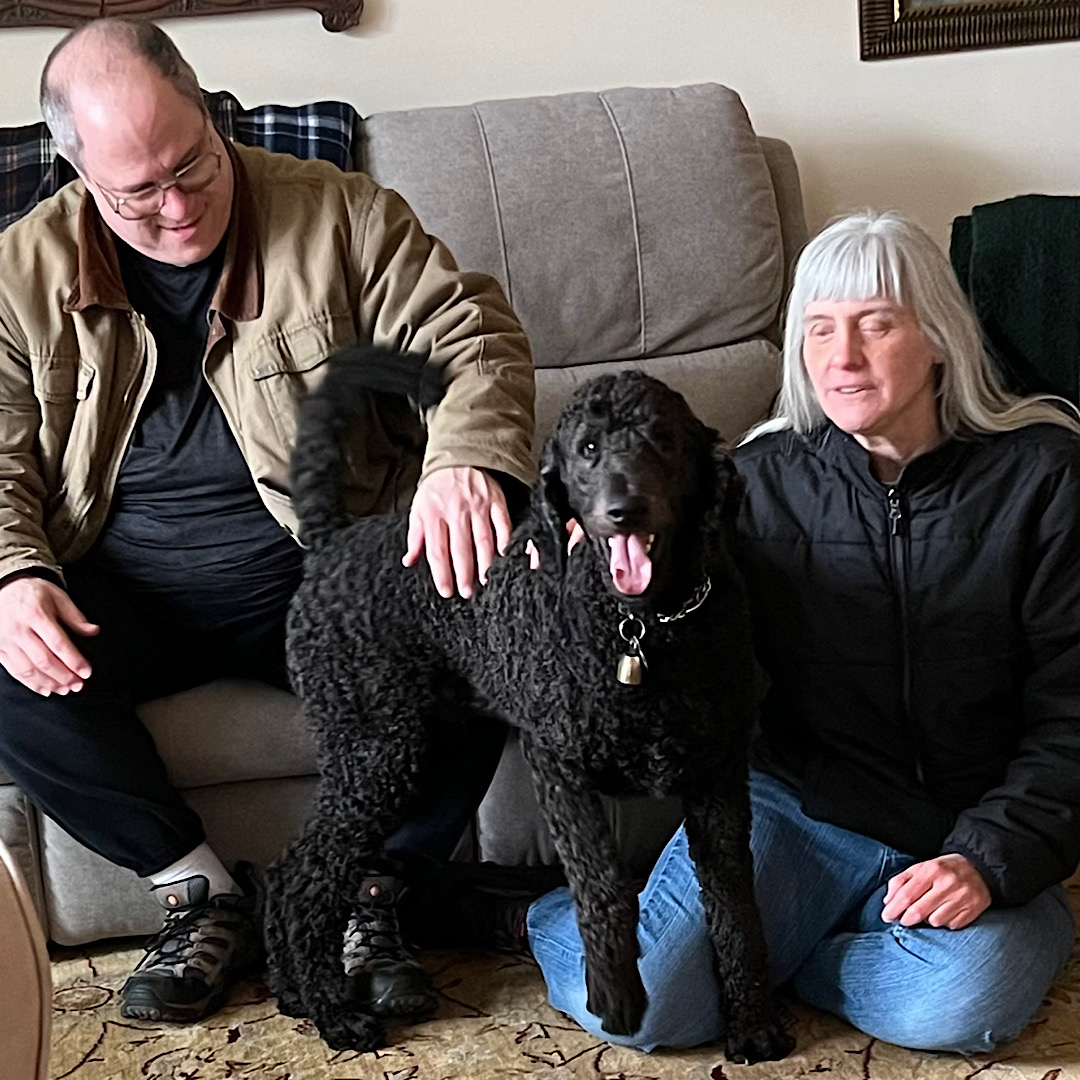 The two pictures above show Eileen and Joe in the living room with Sagan.
Thanks to Eileen and Joe for working with us. We were able to check off a few of our public access tasks like Sagan being able to tolerate people stepping over and around him without him braking. We still need to accomplish these tasks out in public but we are getting there.
This week we are working on getting him to settle in a crate in the car in preparation for some longer trips coming up. We are taking it very slowly.